Stay in the real village
Welcome to

Kuwera eco lodge
Stay in the real village
Welcome to Kuwera eco lodge

Our rooms are waiting for you
Enjoy your stay

Enjoy our delicious food
a taste of real Sri Lankan food
Delicious food

Practicing yoga
on our Yoga platform

Beautiful surroundings
so close to amazing places
Choose one of these types of our Hotel rooms, starting from cheapest standard room passing through Deluxe rooms and Traditional Deluxe rooms until the family bungalow, all have the ability to make you feel at home away from home.
View all rooms with details
Our highlights
Don't forget to enjoy that...

Swimming Pool
Take refreshing moment swimming in our stunning swimming pool.

Sound of nature
Enjoy your moment of relaxation by listening to the sounds of nature that surrounds us.

Free Bicycles
Enjoy and discover the surrondings renting our bicycles for free.

Delicious food
Get the opportunity tasting our delicious Sri Lankan food prepared with vegetables coltivated in our organic garden.
Testimonials
Our last reviews
Adrien G
8. December, 2022.
Super, en pleine nature Magnifique hôtel en pleine nature, très bon niveau de confortLe personnel est aux petits soins, et les repas sont de qualité.Ils nous ont fait visiter leur jardin organiqueAllez-y sans hésiter!! Les chambres "traditionnelles" ont la douche en extérieur, cela rajoute du charme (intimité ok).
Judith G
20. October, 2022.
Amazing, unique experience!!! A fantastic experience, the best place I have ever been in years of travelling around! It´s poetic and magic at the same time, Beauty is sovereign here.This is a real pearl, a trasure hidden in the middle of the jungle: the atmosphere is unique, you feel and hear the nature around you but it is quiet , too. A sense of peace overcomes you as soon as you get through the gate and then you get stunned by the beauty of the place in general and of the rooms in particular, the amount of love that has been put in every small detail, the comfort you get, the cleanliness of the whole place and the quality of the staff, which is extremly skilled, friendly, and helpful ( I appreciated in particular the special attention given to our kid´s needs, sometimes even preceeding them), truly masters of their job. The food is high quality, varied and very well served.At the same time it is indeed not far away from Sigiriya, Minneriya safari Park and other interesting places so you if don´t just want to relax in the beautiful pool you have lots to see and after that you can still come back here and enjoy.Our kids were particularly impressed by their organic garden and from being able to climb on a the REAL elephant watchtower used overnight to protect it.The lodge is located next to some local, typical rural houses, very simple and authentic, nothing is fake here: so you can get a glimpse of real rural lifestyle, too.It is perfect for both couples, families or just normal tourist, I just regret not to have stayed longer.
mlaube1
28. August, 2022.
Ein Highlight mitten im Dschungel! Es war einmalig! Irgendwann hört die schmale Straße auf, man biegt rechts ab und fährt nur noch auf einer Schotterpiste. Man denkt, hier kann es nicht weitergehen und hier kann es unmöglich ein Hotel geben. Und plötzlich ist man da in diesem kleinen Paradies Kuwera Eco Lodge mitten im Wald. Ein paar wenige Lodges, teilweise mit phantastischer Aussendusche, allesamt rund um den Naturpool platziert und ein überdachter Bar– und Essbereich für alle Gäste. Wir waren hier insgesamt 3 Nächte während unserer Rundreise auf der Insel und es war für uns ein Highlight. Sehr nah an den Sehenswürdigkeiten Sigiriya Rock, Pidurangala Rock, etc. . Aber was uns hier besonders beeindruckt hat, war die Freundlichkeit der Mitarbeiter während unseres Aufenthalts. Vielen Dank an Jayantha aus dem Service, Nissanka vom Empfang und Nissanka aus der Küche. Unsere drei Tage bei Euch inkl. Curry Kochkurs bleiben unvergessen!,
Idylle im Dschungel Wir verbrachten während unserer Rundreise durch Sri Lanka drei Nächte in der Kuwera Eco Lodge. Das gesamte Personal war total freundlich und engagiert. Wir fühlten uns dort sehr gut aufgehoben. Der Kellner fragte uns jeden Tag wann wir unser Frühstück und Abendessen haben möchten. Das kann man individuell bestellen. Wir machten dort einen Kochkurs und tauchten in diese besondere Kulinarik Sri Lankas ein - sehr empfehlenswert!! - super netter Koch 🙂 Das Hotelpersonal ist äußerst bemüht, den Gästen einen tollen Aufenthalt zu ermöglichen und geht auf individuelle Wünsche ein. Die einzelnen Bungalows liegen mitten im Dschungel und da ist es leicht möglich, dass sich auch das ein oder andere Tierchen im Zimmer blicken lässt (Geko, Ameisen, Raupen, Käfer). Über dem Bett befindet sich ein Moskitonetz, welches Insekten aber sehr gut fern hält.Die gesamte Anlage ist schön gestaltet. Aufgrund des windigen Wetters haben wir den Pool nicht benutzt.Ein herzliches Danke an alle Mitarbeiter der Kuwera Eco Lodge!! Wir haben unseren Aufenthalt total genossen und kommen gerne wieder 🙂
Hervorragendes Hotel mit stimmigem Öko-Konzept Tolles Familienzimmer auf zwei Etagen. Das Badezimmer mit Aussendusche war schön. Das Essen war überaus lecker. Zeitweise gab es etwas Verständigungsprobleme mit dem Personal. Der Pool war eher natürlich, aber sehr ansprechend. Das Gesamtkonzept weiss zu gefallen z.B. mit Wasserspender und Glaskaraffen anstatt PET-Flaschen. Unsere Wäsche wurde sogar kostenlos gewaschen!
cschmitt2022
20. June, 2022.
Wunderschönes Lodge-Hotel im Niemandsland bei Lion Rock Wer eine ruhige Lage in wunderschöner Natur mit geschmackvollen Zimmern mag, ist in der Kuwera Eco Lodge genau richtig. Wir haben unsere 2 Nächte dort sehr genossen. Alle Zimmer sind in separaten kleinen Gebäuden, mit einer Terrasse davor und verfügen über schöne großzügige Badezimmer. Die einzelnen Bungalows liegen angeordnet um einen Pool mitten im Dschungel. Auch der Essensbereich ist sehr schön. Ganz besonders gut gefallen hat uns außerdem die freundliche und familiäre Atmosphäre und das gute Essen. Wir durften am Nachmittag sogar Jackfrucht-Kerne als Snack probieren, die extra für uns zubereitet wurden, weil wir diese nicht kannten. Wir hätten problemlos noch länger bleiben und z.B. längere Touren mit den vom Hotel zur Verfügung gestellten Mountainbikes unternehmen können. Die Kuwera Eco Lodge zählt für uns zu den schönsten Unterkünften in Sri Lanka!
Natural beauty and best food ever We stayed with two small kids. The family cottage was ideal, and so beautifully built with all wooden material. The outdoor shower made you feel even more into nature. The pool was nice with a shallow part for kids. In the backyard a vegetable garden and a view on lion rock and Pidurangala.Dinner served was excellent, such nice curries and Sri Lankan food, also spaghetti was possible for the kids. People super friendly and helpful. Poor wifi but that might help to take a break even more.
We liked our stay in kuwera We surprisingly enjoyed our stay in this eco lounge. The food was delicious 🤤 and the staff and even the owner were very friendly.If you are scared of BUGS like my friend and me so just don't stay here. We know it's the nature and it's totally normal. Ps: just sending a small hug to apple
Ophelie M
20. February, 2022.
Très bel hôtel au milieu de la nature Jolie chambres villas au milieu de la nature, accueil très chaleureux, nourriture excellente et traditionnelle (rice and curry notre 1er soir), bon petit déjeuner copieux, à proximité de Sigirya, on recommande vivement
anitam773
20. January, 2022.
une étape pleine de charme l'endroit n'est pas facile d'accès, perdu au milieu de la jungle via un chemin quelque peu raviné par les pluies, mais quel endroit plein de charme!les bungalow s'intègrent dans la nature.le personnel est adorable et la cuisine est délicieuse, pleine de saveurs délicates!il manque peut être à cet endroit une présence féminine, la déco demeurant un peu sommaire et la piscine mériterait un peu plus d'entretien.mais au final nous avons beaucoup apprécié ce petit paradis!
From Blog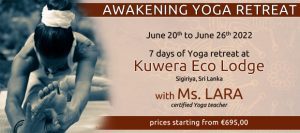 Open your heart and clear your mind. A retreat in Sigiriya, in the cultural heart of Sri Lanka, which...


We receive many bookings during the year, of these, approximately 70%, come from research portals such as Booking.com, Expedia,...