June 2022 Awakening Yoga retreat
Open your heart and clear your mind.
A retreat in Sigiriya, in the cultural heart of Sri Lanka, which combines meditation, yoga, tranquility and nature leaving you time to be with yourself and reach a condition of physical and mental well-being.
We will accompany you and support you on this path of personal growth, putting our experience and professionalism at your disposal.
June 2022 – 7 Days and 6 Nights in Sigiriya, Sri Lanka.
Join us for a week long, soul-filled retreat at an authentic Eco-Resort: Kuwera experience in Sri Lanka. Surrounded by nature, only a few kilometres away from the cute little village of Sigiriya and many Buddhist archaeological sites.
Gif yourself with a new experience of Yoga practise on this week long retreat.
The retreat is open to all expertise levels, ages and body types.
You will be enchanted by the nature surrounding you and the peace you'll experience during your time with us.
The retreat will be dedicated to yoga practice and natural, healthier food, but it will also give you time to rest and to achieve your mental well being. Everything will be set to help you reach your natural comfort.
Teacher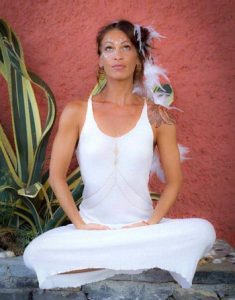 Ms. Lara started studying and practicing Hatha Yoga, Pranayama and Yoga Nidra at 16 and started teaching at age 22.
She earned the Yoga Niketan Trust of Rishikesh degree in 2008 and her passion for the Yoginis arts has taken her to India and compelled her to explore all of the East in order to dig deep inside the tradition of yoga in all its forms.
Lara teachings of Hatha Yoga concentrate particularly on the posture of the body while respecting each pupils time to achieve the perfect position.
During this retreat Lara will accompany you through all yogas practices while helping you achieve your personal growth.
Yoga styles
Click here to download the pdf file with more informations
or fill the form below, it'll be a pleasure for us send you more details.